Woo Woo. After 25 years, it's time once again to climb aboard the mighty Ghost Train!
The Ghost Train were local legends in their day. They had a great live act. My first real exposure to the Kirkcaldy music scene was at a concert at (of all places) my old school, Balwearie High.

I can't recall for the life of me now how this would have happened, but a load of local bands were able to put on a show there at the very beginning of 1985.
(Practicing at the WMCA around 1987. L-R Davie Brown and Jock Lessels, photo by Sandy Craft)
(The band Kirkcaldy Harbour March/April 1988)

I remember being particularly taken with a band called Nationwide that night, which I believe was Graeme (Scotty) Scott's band, before the Ghost Train.
(Scotty, Skittle 1985, photo by Sandy Craft)
By the time I was really getting into the local scene in mid 1985, the Ghost Train had quite a following and you were always guaranteed a good time at one of their shows - everyone would be there.
(Insert from the first single)
(From the bands Germany tour, November 1989)

We secretly looked up to them, especially the older ones in the band like Scotty. Although we would have never told them at the time, they were a cut above the other Kirkcaldy bands. They had a determination and professionalism that was amazing- listen to the interview with Scotty below and see what I mean.

They were legends in our eyes, I remember how proud we were to have played on the same bill as them, not once - but twice! They had a single our (self financed I think), a copy of it's cover is above.
(Scotty, taken from the "In the Neighbourhood" article which is in the "Scrapbook" section of this website. The best article on the Kirkcaldy music scene in the 1980's)
(Mark Nicol, Strathern Hotel 1985, photo by Sandy Craft)
I'm grateful to Davie Brown of both the Ghost Train and The Crucified Brains, for giving me some notes about the band -
Graham Scott - Vocals/Keyboards - Songwriter - Co-founded the band with John Lessells from the remnants of Nationwide (85-90)
John Lessells - Bass Guitar - Living and working in Kirkcaldy - See above (85-90)
David Brown - Guitar - Living and working in Aberdeen - Move to the Basque Country, Spain in the pipeline - (86-90)
Jeremy Flynn - Guitar - Still based in Fife and playing in a new band called Wicked Wicked. Does video work and still teaches guitar after a lengthy spell in Europe. (88-90)
Euan Slorach - Drums/Percussion - Now an official 'Dr'. He has been living and working in San Francisco, California since late 2000. Still retains a flat in Edinburgh (85-90).
(Davie Brown 1983)
OTHER BAND PERSONNEL
Andrew Sinclair - Guitar (1985-86) - Joined The Family Shampoo for a while - Last heard working as a teacher. Current whereabouts unknown.
Mark Nicol - Guitar - (1985-87) – Started off on the drums but moved to guitar once Euan was recruited. Co-wrote the first single 'Killing Time/Hope and Glory' with Graham Scott. Had a brief spell playing bass with Locomotive Latenight. Now a producer in Aberdeenshire.
George McArthur - Guitar (1990) - 'Guitar Roadie' - Brought in to replace Chas B (Dave Brown) for The Ghost Trains' final two performances in June 1990 at The Venue, Edinburgh & Anthonys Hotel, Kirkcaldy.
Colin Usher - Drums (1990) – Same as George, but drafted to replace Euan Slorach.

OFFICIAL RELEASES
Killing Time/Hope and Glory - 7 inch single released on Kingdom Come Records - Early 1986 (Limited Edition - Free Poster) - 150 copies were mis-pressed. Now Deleted. Copies have appeared on E Bay and other websites and usually retail between £6.00 and £15.00.
Killing Time/Hope & Glory/Top of The Wall/Dusty Bedrooms - (Very Limited Edition - Cassette Only Release) - All tracks were recorded at Palladium Studios in Loanhead in February 1986 and engineered by Keith Mitchell and Jon Turner. With the exception of Dusty Bedrooms which was recorded in late 1985 in St Andrews Church Hall on Bobs 8 Track Portastudio.

(Scotty and Mark Nicol, Skittle 1985, photo by Sandy Craft)

Pure Imagination/Waiting for Madness/The Snowman - 12 inch US-Only - Released on Chicago-based independent label ISM records March 1989. Although several copies were issued in the UK. Deleted. Recorded at Palladium Studios in March 1988 and engineered by Keith Mitchell & Jon Turner
STUDIO RECORDINGS
Dusty Bedrooms/Sideway Look/Bewildered/Nationwide - Autumn 1985 (Graham Scott - Vocals, Andy Sinclair - Guitar, Euan Slorach - Drums, Mark Nicol -Guitar & John Lessells - Bass) - Recorded at St Andrews Church Hall, Kirkcaldy in August 1985 on Bobs Portastudio.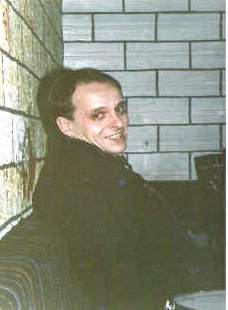 (From the bands Germany tour, November 1989)
Killing Time/Hope & Glory/Top of The Wall - February 1986 - Palladium Studios (Graham Scott - Vocals, John Lessells - Bass, Mark Nicol - Guitar, Dave Brown - Guitar & Euan Slorach - Drums).
Wicked Wicked/Waiting For Madness/Barricade/Being There/Dusty Bedrooms - June 1987 (Same line up as for the 'Killing Time' sessions but with Scotty on Keyboards on 'Waiting for Madness' & Chas B on Keyboards for 'Barricade') - Recorded and mixed on a 16 track at DikGees in Carnoustie, Angus, Scotland over a weekend in Summer 1987)
Pure Imagination/The Snowman/Waiting For Madness - March 1988 Palladium Studios (Graham Scott -Vocals/Keyboards, David Brown - Guitar and 12 string, Euan Slorach - Drums, Jeremy Flynn - Guitar, John Lessells - Bass).
RADIO
Interview with Evelyn Brown for VRN Summer 1986
'Killing Time' and 'Hope & Glory' received regular airplay on local and national radio. 'Killing Time' came 4th in a listeners poll in 1986 on Scottish Waveband on Radio Forth.
VIDEO
Live Aid - February 1985 - First Gig - The line up was (Scotty - Vocals, John Lessells- Bass, Andy Sinclair on Guitar and Mark Nicol on drums). Although, I did not attend this gig, I vaguely remember hearing from two or three different sources at the time that a recording was made of the whole event on an old Video 2000 Camcorder. Ultra-Rare (If it exists). If anyone can trace that, then that would be amazing. Very likely to be a bit of a myth though. There is an audio recording of this....somewhere.

'Sideway Look' - Shot at Ravenscraig Castle and Pathhead Sands, Kirkcaldy in late 1985, by a mate of Andrew Sinclair. One camera and an original home edit suite. Didn't do too bad a job of it. I think that there may be a copy of this floating around somewhere.
'Killing Time/Hope & Glory' - First 'official' video - Recorded in the basement of a nightclub in Manchester on World Cup Finals day in 1986. A very early start and a late finish on the hottest day of the year. Character building exercise! The guy who lured us down to Manchester, 'Big Andre' would only accept used English £10.00 notes...and about 15 of them, thank you very much. Promised us major distribution to Universities, Clubs, Venues etc; Nothing happened. Last seen being investigated on the BBC TV Consumer Affairs programme 'That's Life', running away from the camera, after being accused of conning young bands. Hmmm..... - I'm sure there is a copy of this in someone's attic. In fact, there are copies now here: http://www.youtube.com/user/exilestudio

(Euan, Strathern Hotel, 1985, photo by Sandy Craft)

Lunchtime 'Showcase' Gig - Glenrothes College - April 1988 - This was a live 'mini' gig, recorded in the main hall at Glenrothes College. I remember that 4 songs were taped and if memory serves me correctly, an interview with Scotty was done as well. Our US record company 'execs' were over and wanted to see us in a 'live' setting. Pete & Sheila did a great job with the sound that day. A copy of this was floating around for a while in the late 80's and early 90's and again, like the 'Live Aid' gig, I would be very surprised if this saw the light of day again. Maybe the colleges have a media archive section...who knows.

(Bentleys 1989, photo by Mike Laing)

The Lido - Midweek Gig - Summer 1989 - I only saw this once. What I remember of this, is that the recording was in Black & White and very shaky to say the least. One camera and distorted sound. Don't know where this has disappeared to.

Ingolstadt - Main Hall - November 1989 - Could be another myth, this one. Max, our German 'promoter' told me a few months later, that this gig had been video-taped...again a 'single stationary camera pointing at the stage' effort. No evidence has been forthcoming and I'm not holding my breath. This gig was where some of the black and white pictures were taken. Another great gig, where Scotty memorably sang, 'Walking on Top of the Berlin Wall'. It had come down that very day.
PUBLISHING
Rocksong
THANKS
Dave 'K' - Driver of many a rickety and 'full to the brim' transit van. Came everywhere with us.
(Councilor) Jim Brennan and Bros.; From the legendary JAM team from Kelty, who supplied us with PA's and great laughs all over Scotland.
(Jock and Euan, Skittle 1985, photo by Sandy Craft)

Jim Cooper & Jim 'Aund' (Kirkcaldy YMCA) - JC for letting us use the facilities and getting us over to (West) Germany and JA for 'haranguing' us for loose change/notes every Sunday at practice.
Tom Reid for his time and effort in reminding us what was there and what we had and Ian Cargill for his digital expertise!

'I'm sure my memory has failed me somewhere in the past 17 years or so. There will be about a half dozen other solid recollections of events, probably with a bit more clarity! So I apologise to the rest of the guys, if there is any info that I may have missed out'
Chas
July 2007

Songs you can play and download: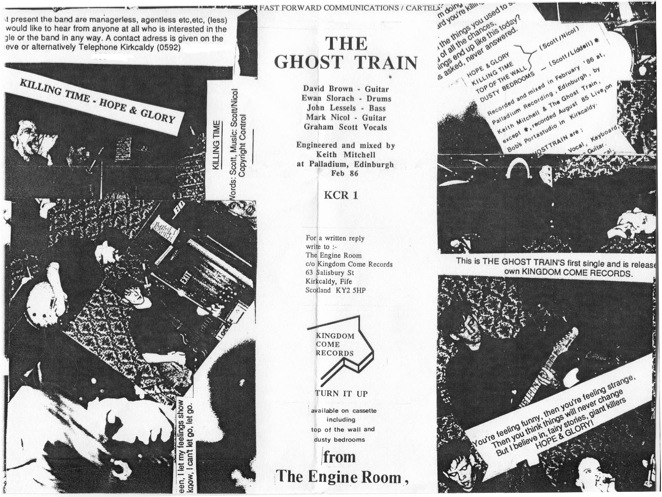 (Insert from the bands first single)
From the bands first single, nice quality copies by Ian:
)
The files below were recorded from the master tapes at the session that the above single was recorded. The cassette copies suffer from a bit of drop out, but they are interesting because it sounds as if the actual vinyl copies of the single were recorded slightly too fast. Also, the sound is a lot better (despite the drop out) on these versions. Classic Ghost Train. Also included from the same source is "Top of the Wall" which was recorded at the same session too. Amazing this was not put out as a single too, I suppose it was the limitations of the single formats of the day. I have a very fuzzy memory of my band mate Stevie Simpson, having a cassette copy of Killing Time / Hope and Glory / Top of the Wall and Dusty Bedrooms. It could have been that there was a limited release of the whole session on cassette.
Hope and Glory Single (master tape version)
Killing Time (mster tape version)

This is the bands 12 inch single, real nice quality vinyl to digital transfer by Ian:

The following Ghost Train and Ghost Train related material was compiled in 2007 from the tapes Davie Brown had of the band. Thanks a lot to Davie for uncovering all this music so we can hear it all again. Also huge thanks to Ian Cargill, Kirkcaldybands.com resident audio engineer, for the analogue to digital transfer and much technical genius work to enhance the quality of these recordings. It's been great hearing all this material again. "Walk on the Wild Side" was a classic Ghost Train cover, it's been over 20 years since I last heard their version of it. The atmosphere of the Abbotshall is really captured on that recording too, brings back many happy memories. The VRN interview with Scotty and Mark Nicol is a wonderful rare period piece too. It nicely complements the "In the Neighbourhood" article on the Kirkcaldy music scene that is in the "Scrapbook" page of this website. Notes on the songs by Davie Brown:
1. Wicked Wicked
2. A Mad Minute
Both songs recorded live, direct from the mixing desk in Inverness - The Hayloft, 16th June 1989. This was the second gig of our mini Highland Tour. One of my favorite gigs and a memorable trip. The rest of this tape is lost to eternity...or is it.
3. Is Anybody Out There?
4. Pure Imagination
5. The Next Time
6. Then Again
All recorded between July and September 1989 - Rehearsal - Kirkcaldy YMCA - Quality of the recording is average, but it highlighted to me that we were absolutely at the top of our game then. Great versions.
7. It's So Different
Rare political p-funk - Recorded at practice December 1988. Always well received 'live'.
8. Waiting For Madness
9. The Snowman
Recorded direct onto cassette from the source Master Tape at Palladium Studios, Loanhead, March 1988. Flip side of Pure Imagination. These are great versions and have stood up well to the ravages of time.
10. Interview with Graham Scott & Mark Nicol of The Ghost Train with Forth FM's Evelyn Brown.
Recorded at VRN Studios in Kirkcaldy, summer 1986.
11. Announcement by Councillor Jim Brennan at the end of one of our gigs - Kelty - August 1989
12. Walk On The Wildside (Sleazebag Version)
Recorded live at the Abbotshall 6th July 1987 - This is quite a poor quality recording, but it does feature Locomotive Latenights Alan Liddell (Lids) guesting on guitar for a 'mini-'Nationwide' reunion'.
13. Understanding Jane
Recorded at practice in a Cellar underneath Jeremys flat sometime in 1989 - Originally done by The Icicle Works
14. If You Go
March 1990 - This was recorded at a practice during the final days of the band. One of my favorite songs. Powerful lyrics and a great vocal here from Scotty. There are probably better versions of this, but this is the only one I have.
15. Time (Unfinished)
Recorded late 1987 – I accidentally stumbled across this little gem. Mark Nicols tenure with the band was coming to an end by this time. This was never played live and was quietly phased out, due to having to rehearse with a new guitarist (Jeremy Flynn). This remains a forgotten nugget nonetheless and I wish we could have finished it!
Other Stuff -
1. Then Again (Instrumental)
Recorded by Chas on an 8 track, sometime in 1996. This is the 'light' version without a vocal. A much better version was recorded with vocals, but as is inevitable with good versions, it was scrubbed from the Master Tape. The bass on this is played by Simon McCrindle from Dundee based band Embryo. We were going to record 'If You Go' and 'Another World' the day after, but the day after came & went.
2. The Best of Times (Instrumental Demo version)
An old song written after the band had broken up. Again, this is Chas from 1996 on an 8-track, recorded at the same time as 'Then Again'. 'The Best of Times' started off as a very slow chord progression, almost ballad-like, but the tempo was raised considerably and this version sounded much better (IMO). I must have been listening to a lot of Brit-Pop at the time. Simon McCrindle is the guest Wal thumper here!
Mark Nicol, who was a guitarist in the band as well as being the drummer of the band's predecessor - Nationwide, has also been digging out material for me:
This is an absolute classic. recorded at a rehearsal, Davie Brown is on Keyboards.
Mark says about this song -
This was recorded with big andy playing guitar. It was when we were looking for new guitarists before Chaz joined. He used to go out with John Venters big sister, John Venters was in a band with Scotty after the Ghost Train called bodybag. Sadly Big Andy committed suicide a good few years ago.
We think Big Andy was the guitarist of the Screaming heroes / Dream Children, he was then in Kirkcaldy's other "supergroup" The First born child of a rock 'n roll sex god.
These tracks are early Ghost Train, just after the band changed their name from Nationwide. Top of the Wall went on to be a Ghost Train favorite.
The following two songs were recorded from the mixing desk at a gig in the Windsor Hotel, Kirkcaldy on in December 1988. The band are on great form here.
These two songs were recorded at the Hayloft, Inverness on June 16 1989, off the mixing desk too.
These are from the Kelty Rock Club in August 1989, again, from the mixing desk at the gig.
These two MP3's are were recorded at the Charities Concert at Kirkcaldy College of Technology on February 21st 1986 (the same concert that the Surgical Wars, Domestos, Blue Vega and Political Asylum played). The Ghost Train had, at the time they played this gig, just released these songs as a single. Some of the very chaotic goings on from this charity concert are captured on this tape. A band (I think called Deutche Sphincster, from Edinburgh - of all places) had been on before the Ghost train were supposed to be on and had basically, dismantled the stage. They had also massively overrun, this would not be a problem normally, but as I recall, they were a pretty avant garde act and their set mainly consisted of percussion. So they didn't go down well with the local audience. Worse, they almost caused the Ghost Train not to be able to play, as the Tech Janny was by this time asking that everybody leave, as he needed to lock up. So, there was a huge argument about if the Ghost Train should be allowed to go on or not. The local heroes were not about to be stopped from headlining the day by a bunch of bucket banging Edinburgh posers - so they were allowed to go on and do two songs. As I remember, they stayed on for a third, and the Janny's people closed the curtains on them - and I can still picture the band still playing behind the closed curtains as these little girls (who must have been big Ghost Train fans), dragged them open again. What days - Scotty's comments on these MP3's are a reference to the band that went before them and had caused all the grief. Despite of (or maybe because of) all the grief, the Ghost Train are on particularly good form here. Recorded on my mono Marantz machine. I think these MP3's were made off a second generation analogue copy, not bad sound quality. The sound files were enhanced with Audcity on June 20 2009. I found out recently that this was Davie Brown's first gig with the band.
1 The Ghost Train Feb. 21st 1986 - Hope and Glory
2 The Ghost Train Feb. 21st 1986 - Killing Time

These two songs are from the "Stupefied" tape. For some reason, the Ghost Train material on Stupefied had some quality issues. "Waiting for Madness" is a classic all the same, I think this is the earlier version than than the one that was on the 12" single, so this one will have Mark Nicol on guitar.
The Ghost Train - Waiting for Madness
The Ghost Train - Wicked Wicked
(From the bands Germany tour, November 1989)
(Mini Ghost Train reunion, 2007, L-R Jeremy Flynn and Davie Brown)
The following tracks are recent finds from Davie Brown's collection.
The first track below is the earliest known version of "Killing Time":
The track below is a version of "Dusty Bedrooms" featuring Davie Brown and Ozzy. The gig was meant to be Scotty's new band "Bodybag" but Scotty and Jock Lessells didn't show that night, so it is a duet with Davie on bass.
Dusty bedrooms - Chas & Ozzy 91
Collection of pictures from the bands 1989 Germany tour