Kirkcaldy Bands

The Silent Falls
AKA The Family Shampoo, Supernova, and still gigging as No1 Sun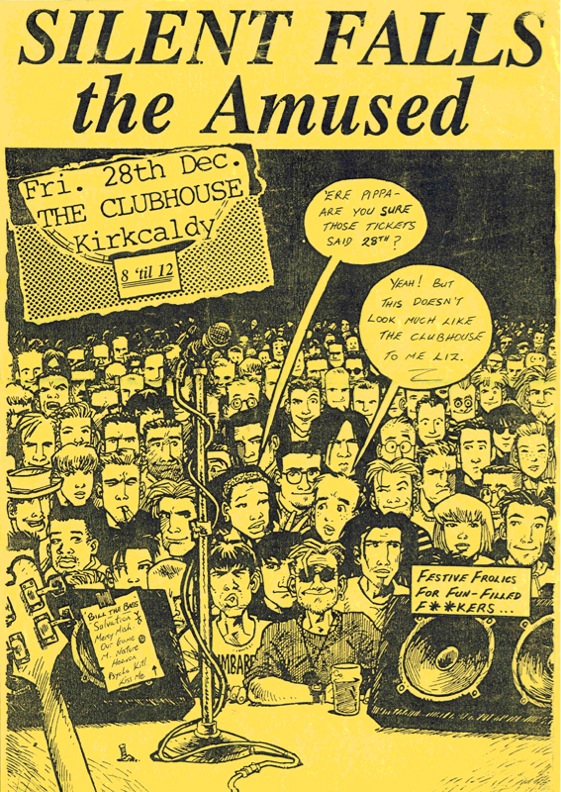 I'm grateful to Dave Cunningham of the band for the following information:
Silent Falls emerged from the Family Shampoo, a sort of post punk band who played from about 1984 - 1986. Family Shampoo played in various places like the Skittle, The Abbotshall, Antonys (now a nursing home). Silents Falls played around the kirkcaldy area, Leven, and Edinburgh before transforming into Supernova in 1988-89.
Supernova played through out Scotland from Dumfries to Ullapool and supported lots of touring bands at such venues as King Tuts, The Venue, The Cathouse, The West Port & Lucifers Mill (Dundee).
At one point had a number of A&R men clambering for a demo but alas it was not to be. Released various cassettes (remember them, wee thing with two holes in them to make the tape move) and turned down a couple of "not too great" records deals from two independents, one was flat records, I think it was a subsiduary of one of the majors.
Supernova played through the nineties and was always described as sort of being eclectic, a good thing from an interest point of view but maybe a bad thing for the repetitive sound people like in bands. In 1998 the band turned to the darkside of covers and played throughout Scotland to finance a 3 track demo CD. Once the funds had been achieved the band recorded the songs in Qten (Glenrothes). Before releasing the CD the band had a difference in opinion and split. A year later four members of the band reformed and continued to play covers for fun. In 2004 the band decided to do covers seriously and invested money in new equipment and went looking for more gigs. The band (three members) are still playing around Scotland and England as No1SUN.
The 3 tracks from the CD can still be heard on the No1SUN website on "The Suns" demo page and there is a photo of the 1990s Supernova.
www.no1sun.co.uk
Band line ups
Family Shampoo
Billy Easson
Dave Cunningham
Boon
Andy Sinclair
Silent Falls
Billy Easson
Dave Cunningham
Brian Page
Alan Hancock
Supernova
Billy Easson
Dave Cunningham
Alan Findlay (replaced by Brian Page later for covers)
Alan Hancock
Greg Holland (added for Covers)
No1SUN
Billy Easson
Dave Cunningham
Brian Page
These two songs are from the Stupefied tape.
More details on No 1 Sun can be found at - www.no1sun.co.uk
Davie Brown just told me that Bentleys was re-opening, I liked the old one better after it was demolished myself. But I see No 1 Sun are playing there, soon.