Kirkcaldy Bands

Thank Crunchie it's Who Cares?
The Best Songwriter in Kirkcaldy.
Ian's Who Cares? Story -
My first contact with 'Who Cares!?' was when I met Derek Anderson (bass) at a party in Dunnikier Road around Hogmanay of 1987. The band were already gigging as a 3 piece and it was at one of these gigs, at the Abbotshall Hotel, that they approached me about joining as guitarist. I think Coln Burns (vocals) felt restricted as a front man by having to play guitar. The band hailed from the Badlands east of Kirkcaldy, so I'm not sure how they came to have Colin Livingston (singer with The Twist) on drums. They already had a manager in the form of Treez Watson and she & Coln had previously advertised for band members in Sleeves record shop. I remember being sceptical that anyone would 'phone Psycho on 352.....'.

Being in 'Who Cares!?' was a strange experience. I would catch the bus to Coaltown of Wemyss for rehearsals in the village hall. We borrowed equipment from a guy who lived nearby - a Vox amplifier and an old drum kit with 'The Beatles' painted on the front. Coln had precise ideas about how he wanted to present his songs. He seemed less precise when it came to rehearsals though, as we could never be sure if he would show.
Coln had a highly individual approach to songwriting, and probably to life, which I think was refreshing in a music scene that had an excess of dour indie bands. Gigs were well received; We introduced a cover of 'What's new pussycat?' and spent some time working on new material. The band's contribution to Treez's 'Stupefied' tape (Family Man) was recorded, apparently with much hilarity, in Colin Livingston's attic. Coln played guitar on the recording as I had gone AWOL to London for the weekend to see Peter Hammill. In the event Coln's guitar playing suited the song perfectly & the track became one of the highlights of the 'Stupefied' tape. In the short time the band was together I just about managed to learn Coln's guitar parts, but he would take the lead on 'instrumental' with some inspired guitar.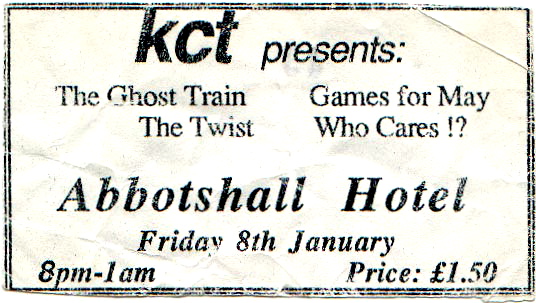 The band ended suddenly and for no obvious reason. Despite there being talk of a deal to record a single, Coln seems to have become bored with his efforts at 'pop' and immediately formed 'Backlash', a hardcore band. The last time I saw him was at Bentleys night club. He was dressed in a teddyboy jacket with no shirt and, I think, had blue hair. I wonder where he is now? Derek joined Colin Livingston in The Twist and later played guitar with 'post rock' band Sawyer. Colin Livingston still plays drums with the odd band in Glasgow.
The live recording below was recorded by Tom at our second gig at the Abbotshall Hotel, supporting The Twist & The Receiving End. For some reason the record level was too low & the music was rather swamped with hiss. I've done my best to clean this up & the results can be heard below. All songs were written by Coln Burns except 'Notice me' which is by New Model Army and 'Julie's been working for the Drug Squad' which is of course by The Clash. I've very much enjoyed listening to this gig again. The performance is a bit rough of course, but it's full of energy & I think, has a lot of charm. Hopefully we can locate a copy of the other live recording before too long. Some photos would be nice too!
List of known gigs:
1. 8th January 1988 - Who Cares!? at the Abbotshall Hotel, Kirkcaldy with The Ghost Train, Games for May & The Twist.
2. 5th February 1988 - Who Cares!? at the Abbotshall Hotel, Kirkcaldy with All Days Fade & Silent Falls.
3. 3rd March 1988 - Who Cares!? at the Abbotshall Hotel, Kirkcaldy with The Twist & The Receiving End.
4. 6th March 1988 - Who Cares!? at the Windsor Hotel, Kirkcaldy with The Ghost Train.
Who Cares? were Coln Burns on vocals and guitar, Colin Livingston on drums, Derek Anderson on bass and Ian Cargill on guitar. The really brilliant thing about Who Cares? was that Coln Burns was just an amazing songwriter. When I was preparing this piece on the band, I was struggling away to think who Coln and his songwriting style reminded me of, and I realised that who he most reminded me of was, Eric Goulden (aka Wreckless Eric, of Whole Wide World fame), in Eric's Stiff records period, when he was writing stuff like "Take the Cash" and "Veronica". He has the same comedic, ironic and black comedy style - I wonder if Coln was a fan?
I first came to know about Who Cares? when Ian was asked to join on guitar. Coln was a pretty good guitarist himself, but I don't think he was comfortable singing and playing the guitar at the same time - so they were looking for a guitarist. I think Colin Livingston from the Twist must have known Coln. I didn't know Colin Livingston could play the drums too, he was pretty good.
What has really stuck in my mind, in all these 20 years since Who Cares? were a band, was Coln's Burns's song writing ability. Most of us who were in bands in the '80's had graduated from playing covers, to begin to write some of our own material. The Surgical Wars final set was kind of half covers and half our own stuff, I always wanted to do more original stuff. I only have a limited amount of interest in listening to cover versions - why not listen to the record? An occasional cover is good in a set, as it gives the audience something to hook into, after listening to half an hour of stuff they are not familiar with, the Ghost Train's version of "Walk on the Wild Side" was a classic. However, finding bands that could play well, as well as write songs well, was rare. There were a few bands around at the time who could play well, who could not write songs at all. Happily, there were very few covers only bands in Kirkcaldy in the mid '80's, that was seen as VERY uncool! But the downside of this need for original material, was that here were a few bands that tried to solider on and write their own material, and they really couldn't do it - which lead to a few very boring evenings, listening to a band whine on about how their girlfriend didn't really love them, etc, etc etc etc.
The Gimix, The Ghost Train and The Twist could all write good material, but Coln Burns could write great material. His songs were all about something! I don't think Coln could have written an A / D / C guitar riff and added a lyric about how his girlfriend didn't love him if he tried. When most other bands were doing material that could be said to be formulaic in one way or another (and towards then end of the 1980's there was some very formulaic stuff around), Who Cares? were an uncompromising blast of originality and quality material. From memory, their set was full of funny songs about life and some that sailed close to the edge - "Family Man" was an ironic song about domestic violence, no one else was even trying to do material as stretching at that. As good as Coln's lyrical content was, there was actually also a cracking instrumental in the middle of their set. Ian played rhythm guitar, and Coln played these wonderful soar away lead guitar lines.
I have no idea why Who Cares? were so short lived. I think maybe they were never supposed to be a serious project, the band's name may be a clue. There were two gigs at the Abbotshall and one at the Windsor. I taped both Abbotshall gigs on my Marantz mono machine. Ian has a copy of one of the Abbotshall gigs, they were supporting The Twist that night. The tape is not really very good, I think the sound in the venue was not good that night, and the record level on the Marantz was too low - anyway the tape is a bit disappointing. Particularly disappointing is that the level on Coln's guitar was too low, and the soar away guitar lines on the instrumental don't really come over.
The sound on the tape of the other Abbotshall gig was much, much better. I don't really remember much about the occasion, but it must have been the gig that the ticket is from above - imagine, all that for one pound fifty! But that tape has been posted missing for these 19 years. One little fragment of the tape does survive - a copy of "Thank Crunchie it's Friday" (a real highlight of the set), was copied from that tape for the "Stupefied" tape that a number of Kirkcaldy Bands contributed material to, it was released for sale for Charity in 1988. A copy of that MP3 of that recording is below. The audio quality on the Stupefied tape was pretty bad. I think the cassette tapes themselves were pretty cheap and the copies that were distributed were possibly second, or even third generation analogue copies - and we all know how analogue copies always ended up hissy. Also, the MP3 below was made back in 2000, when my MP3 making equipment was much less sophisticated. Sorry the sound quality is pretty muddy and the volume level too low - I hope we can improve on this, in time. For those of you who may know her, it is Lynne Swales (now a resident of Bogota!) who is talking away at the end of this MP3, amazed that the last song was called "Thank Crunchie it's Friday!"
Who Cares - Thank Crunchie it's Friday
I have a vague memory of recording the Windsor gig as well, but have no clue what happened to the tape, it could be that there were technical issues (or maybe the band didn't play too good), but that one has vanished into the 1980's vortex completely.
There was I think only one "studio recording", done on a porta-studio I think. This was of Family Man and it was also released on the Stupefied Tape, and here it is:
As I had mentioned on the "Treasure Hunt", page - we got some info the other day of where the other Abbotshall tape may be now, so it's one of the few lost tapes that I have some hopes of getting back to put on this website. It'd be nice at least to know it still existed and "the Cure" was not recorded over it in 1989! Until it turns up, here is the existing tape of the other Abbotshall Gig, Ian has done an amazing job with the audio restoration. Recorded in mono on my Marantz cassette recorder, this is Who Cares? at the Abbotshall on March 3 1988. The poster above is also from the same gig.
03 Julie's been working for the drug squad
Download whole Who Cares Gig (46Mb)
(The actual tape the above material is from!
20 years old and still going strong.)
After Who Cares? stopped playing, Coln formed another band of which I know a lot less, it was called Backlash and had a more punk rock feel to it than Who Cares? I think Coln formed this band with some friends from Kennoway - so I know less about this band. A copy of the cover of the tape that they released is below.